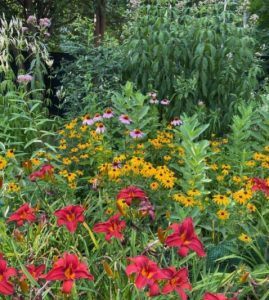 The Easter message of Resurrection and renewal is evident all around us! Do our minds and hearts have the eyes to see the wonder of new life happening in our midst? The flowering of cherry blossoms that transform into the fruition of cherries is a small example of this wonder of God's creation which we are called upon to steward for future generations and it encourages us to look deeply at the interconnections of earth, insects and pollinators.
Ecology is a way of living our vocation as protectors of God's handiwork in creation. "Our efforts … will be inadequate unless we promote a new way of thinking about our fellow human beings, life, society and our relationship with nature." (Laudato Si` #215)
One way we can do this is through a pollinator garden. Did you know that the Wellesley Police Department has such a garden? This beautiful garden is helping feed and house local birds, bees and other insects that pollinate our plants. These species ensure healthy crops which are vital to our food supply. The pollinator garden project is closely aligned with Wellesley's NRC (Natural Resources Commission) Grow Green Wellesley initiative, which encourages reduced pesticide use and promotes earth- and pollinator-friendly landscaping and lawn care. The town currently uses pollinator-friendly plants in many of its garden spaces and plans to expand this practice. We can be an important part of this community effort by planting more native plants in our own yards, creating a toxin-free yard or garden.
Caring for Our Common Home: The Wonder of New Life Happening in Our Midst