"If God can work through me, he can work through anyone."
~ Saint Francis of Assisi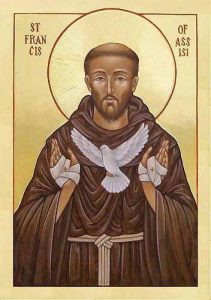 When Saint Francis of Assisi first turned his life over to God, the Christian Church was a very wealthy entity. Devoting his life to Christ in the traditional way at that time would have allowed him to live quite comfortably. Instead, Saint Francis chose to take the Gospel literally and led a life of poverty in the name of the Lord. By determining what was right for his own relations with God, Saint Francis inspired others and spread the Word throughout the world.
Season of Creation closes celebrating the Feast Day of St. Francis. Let us remember his Canticle prayer, the opening words of Pope Francis' Encyclical. "Laudato Si`, Praise be to you, my Lord, through our  Sister, Mother Earth, who sustains and governs us, and who produces various fruit with colored flowers and herbs."
This sister now cries out to us because of the harm we have inflicted on her by our irresponsible use and abuse of the goods with which God has endowed her. L.S.1 – 2
Laudato Si': "Praise be to you, my Lord, through our  Sister, Mother Earth…"