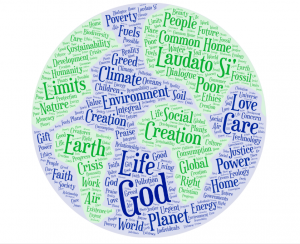 In Laudato Si', Pope Francis speaks of our moral imperative for all of God's creation. Care of Our Common Home calls us to assess the impact our actions and personal decisions have on the world around us. Everything we do has a ripple effect. Are there things we are doing that create an undesirable ripple?
To make a positive impact on the environment, we need not focus on the entire earth. We can think globally and act locally. As Mother Teresa once said, "Not all of us can do great things. But we can do small things with great love." To that end, what small change can you make today?
Perhaps one way to have an impact is by looking at your electric bill. Electricity use peaks at this time of year with air conditioner use. Did you know you can purchase local renewable energy to reduce our overall dependence on fossil fuel? It's more affordable than you think. Check out this website.
We can't replace the environment, but we can renew it!
Laudato Si': Think Globally and Act Locally