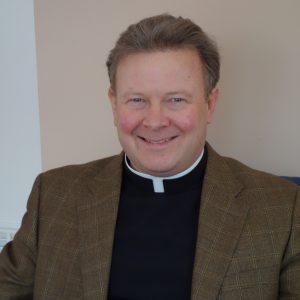 In my message to you last Saturday, I talked about the preparations that must be made, and the restrictions and guidelines that parishes must comply with, before resuming public Masses. The Archdiocese has been very clear that parishes should not resume Masses before they are ready to do so safely. I let you know that we have been working very hard to apply these guidelines and restrictions to the unique configurations of each of our churches, and to develop protocols specific to our worship spaces for resuming public Mass in the safest way possible. Our aim was to begin the process of slowly and carefully re-opening our churches with a limited Sunday Mass schedule and very limited capacity on the Feast of Pentecost, May 30-31.
On Monday, staff from our Reopening Task Force presented these protocols to our Collaborative Pastoral Council (CPC). We are very blessed to have a CPC that has been fully engaged with the developments in this process from the beginning, and is extraordinarily dedicated to our Collaborative. Every member of the Council had just participated in a lengthy webinar on reopening with the Archdiocese of Boston, so were well-versed in the restrictions and guidelines that led to our protocols. We are also extremely blessed to have voices of great expertise on the Council, including medical professionals who have in-depth knowledge of both the most current public health information and recommended practices, and of our specific facilities and practices.
After much thoughtful discussion and careful consideration of our worship spaces and facilities (including physical space, traffic flow within the space, and ventilation), we came to the unanimous conclusion that we are not ready to resume public Masses inside our churches at this time. I do apologize for this quick change in plans, and appreciate your patience and understanding. Please understand that this decision was not made lightly, but with great respect for the advice and expertise of our Council and with an abundance of care and concern for our community. As Catholics, we must keep our deep respect for human life and health central to all decisions. When we do resume public Masses inside our churches, we must be comfortable that we are doing so in a way that is both reverent and as safe as possible for our parishioners, our clergy, and our staff.
The Phase 1 Reopening Plan for Massachusetts strongly encourages outdoor worship services, as the open air helps to mitigate the spread of viruses and the more open space allows for easier physical distancing. Our Task Force, in collaboration with our medical experts, is now focusing on how we can safely and reverently offer outdoor Masses on the grounds of our parishes. We must still comply with the guidelines and restrictions regarding masks, capacity, social distancing, singing, etc. with an outdoor Mass, but public health officials and our own medical experts advise us that an open air setting presents much lower risk than an indoor setting. We are working hard on a new plan, and will continue to keep you updated. As we move forward through the reopening process, we will continue to provide our weekly recorded Masses – we are looking forward to this weekend's Mass, which will be the first recorded with our newly upgraded audio/visual setup for greatly improved sound.
Although we will not be together physically to celebrate Pentecost, the Holy Spirit is no less present to us. God is not bound or limited by the constraints the pandemic has imposed on us. God is still God, ever present to us and uniting us to each other.  As St. Paul reminds us:
What will separate us from the love of Christ?  Will anguish, or distress, or persecution, or famine, or nakedness, or peril, or the sword?  As it is written:
"For your sake we are being slain all the day;
we are looked upon as sheep to be slaughtered."
No, in all these things we conquer overwhelmingly through him who loved us.
For I am convinced that neither death, nor life, nor angels, nor principalities, nor present things, nor future things, nor powers, nor height, nor depth, nor any other creature will be able to separate us from the love of God in Christ Jesus our Lord.
(Romans 8:36-39)
So now, more than ever, with fervent hearts let us invoke the Spirit anew. Come Holy Spirit! Renew the face of the earth!
Yours in Christ Jesus, our Risen Lord,
Fr. Jim
Important Reopening Changes: Please Read