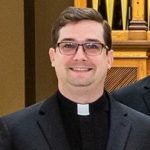 The Gospel message of Christmas is one of peace, joy, glory, and love. And yet today, on the Feast of the Holy Family, we are faced with the reality of the world into which our Lord Jesus Christ is born, a world of danger, treachery, and terror.
In the lectionary for today, the Gospel for today skips over an important piece that is difficult to hear:
When Herod realized that he had been deceived by the magi, he became furious.
He ordered the massacre of all the boys in Bethlehem and its vicinity two years old and under.
That's why the Holy Family fled.  An angry tyrant was on the loose.  And so we are faced with fear, sobbing, and pain so soon after the joy, peace, and love that is Christmas. That can be difficult to bear. How can life be so beautiful and so awful at the same time? And yet often enough that is the way things are for us.
Thank God Jesus has two devoted, loving parents in Joseph and Mary! Both of them sacrifice everything to ensure his safety. They give of themselves completely. Mary is willing to have her life turned upside down, and Joseph is willing to listen to his dreams. Both of them decide to protect and keep safe what has been entrusted to them. Both of them make the decision to put their faith in God, who is asking a lot, and to put themselves in last place. According to Matthew, they uprooted themselves and fled into a foreign country in order to raise their child. That can't have been easy, to leave behind their friends and family and traditions. Love demands sacrifice. Self-giving.
And so at Christmastime, we are invited into the fullness of the Incarnation: God sent His Son into the beauty of humankind and also into the violence and brokenness of our imperfect world.
I have been experiencing this duality on a weekly basis at my stage in formation in the Jesuits. Since I visited home last May, I traveled to Denver and took part in a month-long course on Jesuit history and spirituality with all the other novices from North America, and then I took First Vows of poverty, chastity and obedience in the Society of Jesus at St. Joe's University in Philadelphia surrounded by my closest friends and family. Lots of joy!
A day or two later, I was in Chicago beginning First Studies at Loyola University and was thrust into a huge community of 80 Jesuits. I received a cell phone and a computer and had to make many decisions about which classes to take and which ministries to explore. The transition was not altogether smooth. A new place and a much freer, more unstructured lifestyle of a full-time graduate student in theology made me unsure and uneasy. I didn't sleep well. Lots of chaos and inner turmoil!
The classes I've been taking are extremely interesting. In Formation of Pentateuch, we studied in depth the first 5 books of the Old Testament. In Midrash, a Jewish Rabbi taught us about a biblical interpretive technique that Jesus used to understand scripture. Fascinating. And I spent a lot of time reading and writing about foundational Christian texts from ancient to medieval times. A lot of the semester has been peaceful.
On Sundays, I go to the Loyola University Medical Center and serve as a chaplain. I bring communion to those who would like it, and I visit with people of all walks of life who are hospitalized for various reasons. An 18-year-old who just discovered she has cancer and whose family only speaks Spanish. An elderly man recovering from heart surgery. A middle-aged man who is having marital troubles and is awaiting surgery on his leg. A young mother who doesn't know what's wrong with her kidneys. On Christmas a bunch of us went in to sing Christmas carols for the staff and the patients. Who wants to be in the hospital on Christmas?
Other ministries in which we Jesuit scholastics participate include unaccompanied minors (visiting the detention center where unaccompanied immigrant children go before they are hopefully reunited with their parents and then sent back to their country ), going downtown and visiting the homeless on the streets, getting to know them as people, giving them food and companionship, religious education for underserved populations and poor parishes in the Chicago area, visiting the homebound, and more.
It's this part of Jesuit life that fills me up spiritually. Studying and learning is great and definitely important, but serving those in dire need gives me a sense of purpose. And so here I am constantly swinging back and forth between these two worlds. To contemplate the mystery of Christmas means to allow our hearts to be open and attentive to the pain of our neighbors. God is love, and true love always means sacrifice, self-giving. To contemplate the Christmas story in isolation from the world around us might inspire warm and fuzzy feelings, but it also robs us of the creative power of the good news.
I think as Christians we are called to a larger sense of family. God is our Father, and we are all brothers and sisters in Christ. What would the world be like if we treated complete strangers like our own flesh and blood? That's asking a lot, but that is God's dream for us! Can we learn to see as God sees, to listen as God listens, to feel as God feels? Is this not what Jesus learned from Mary and saw modeled in Joseph? We learn to experience and share God's love in our own families first, and then with God's grace we learn to share that love with everyone we meet.
My prayer this Christmas season is that we, as church, can learn to do as St. Paul recommends in one of his most beautiful letters: put on heartfelt compassion, kindness, humility, gentleness, and patience, bearing one another's struggles and forgiving one another if necessary. Not just in our own families, but for everyone we encounter. That kind of world is God's vision for us, and it's not a pipe dream. It's a reality. I've seen it. And I hope all Christians can see it. We do have reason to hope and to rejoice this Christmas season, even amidst our chaos and struggles.
When we strive to live in our broken world as family with all humanity, then Christ's peace controls our hearts. We are unified as one body. And we can be truly grateful to God for his immense gift to us. Amen.
A Reflection on the Feast of the Holy Family from Chris Holownia