POWIR Update: Getting Settled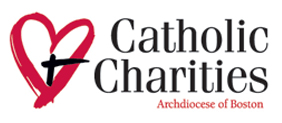 Our SJSP POWIR volunteers have been busy getting Maria, Marcos, Chantal, Emmanuel and Jeremie settled in their new home in Dorchester. They live in a lovely apartment near Pope John Paul II Park, with an easy walk to grocery stores, St. Mark's Church, Fields Corner T,  laundry and much more. Through the generosity of many of our parishioners we've been able to begin assisting them with a rental subsidy. Your continued online donations to help the family are of vital importance.
This week our volunteers are focused on bringing the families to their first medical evaluations and getting a sense of their comprehensive medical needs. Your prayers for that process are greatly appreciated! Through bulletin communication we were able to connect with two Spanish-speaking parishioners who are helping to communicate with Maria and Marcos at this critical time. We are so grateful to everyone who has stepped up to help in the efforts.