Please take a few minutes to watch this important video message from Fr. Jim as we launch the 2020 Annual Appeal for St. John the Evangelist Parish.
A Year Like No Other. . .
As Fr. Jim notes, this has been a year like no other. But despite the unprecedented challenges that this pandemic has raised, the life of our parish and collaborative has never stopped. Rather it has and will continue to adapt to this ever-changing new reality. While the ways we communicate and connect and celebrate together may look very different right now, through the creativity and devotion of our staff and volunteers, and the great generosity of our parishioners, St. John the Evangelist Parish continues to thrive. Below are some images from the past several months that show how the life of our parish and the faith of our community has continued to grow and deepen in new ways despite the challenges we face.
Recorded Masses from Our Churches
On Friday, March 13, Cardinal Seán announced that effective Saturday, March 14, all daily and Sunday Masses and religious services in the Archdiocese of Boston would be suspended until further notice, and that all Catholics in the Archdiocese of Boston were dispensed from the obligation to attend Mass during this time.
We immediately began to celebrate Mass "together" virtually, with our first recorded Mass available to stream on our website the following weekend. Over the ensuing weeks (and now months), we have been able to upgrade both our equipment and our skills to be able to provide beautiful weekly liturgies celebrated by our priests.
A Robust Online Presence
We responded quickly with a robust online presence, launching a new Collaborative website and email list to enhance and streamline communication.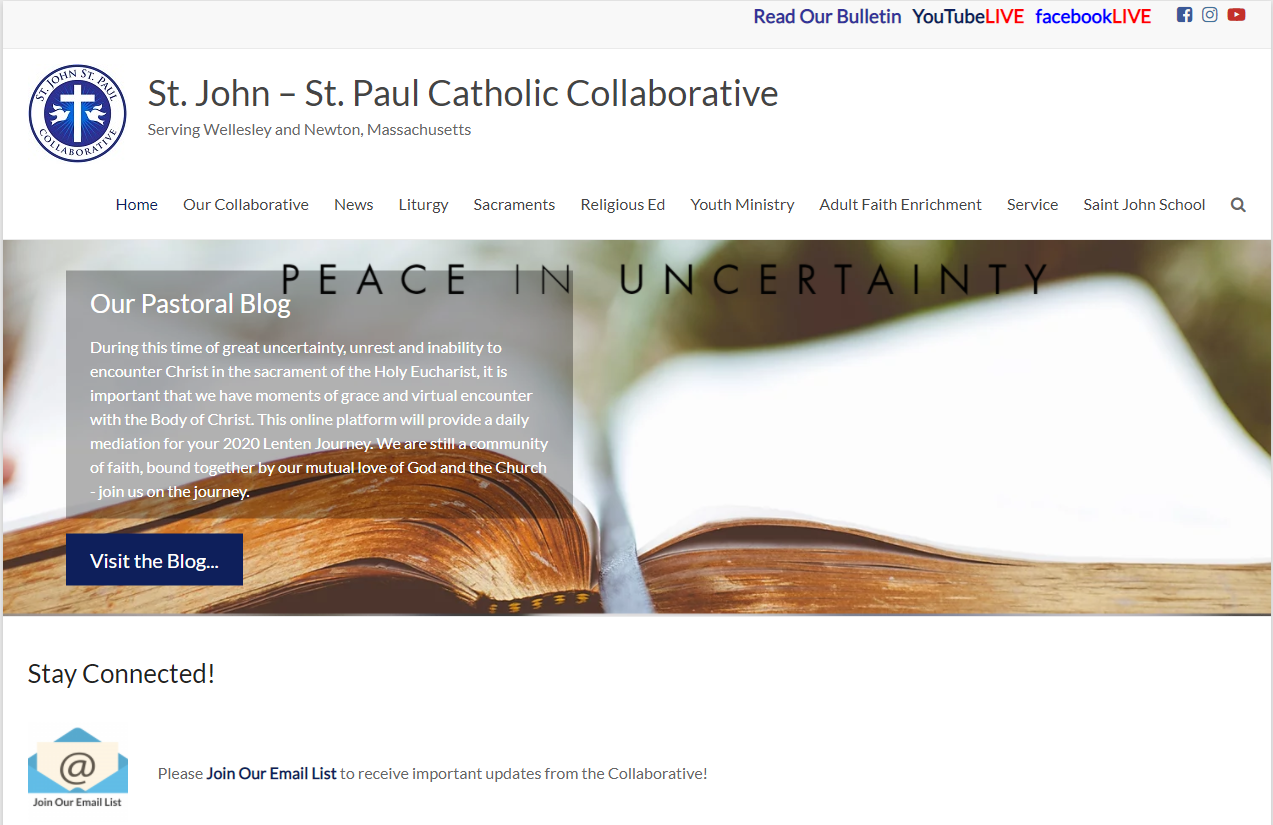 We also launched a new Pastoral Blog – Peace in Uncertainty – offering daily meditations and reflections from our Pastoral Staff for Lent and beyond.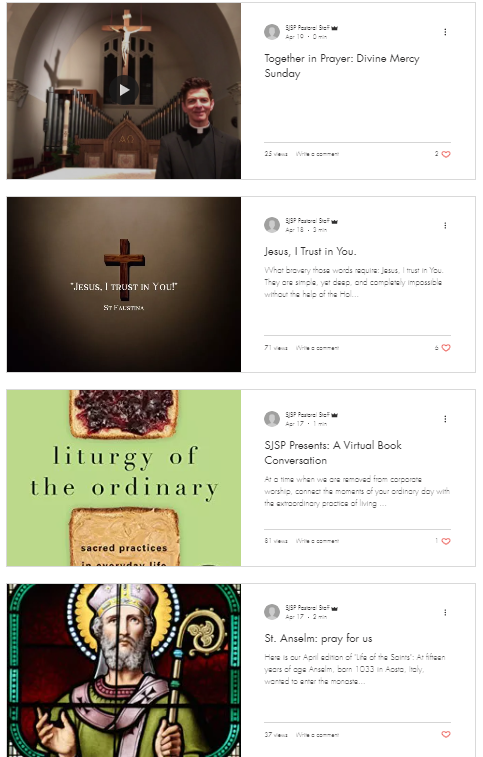 The Daily Rosary on Instagram Live
Virtual Faith Enrichment
When the shutdown was announced our Lenten Small Group program was in full swing, with over 100 parishioners meeting weekly. Within a couple of weeks, many groups made the shift to Zoom, and we've continued with online bible studies and faith sharing groups this fall. Although we could not be physically together during Holy Week and Easter, we were able together virtually for adoration and the ringing of the bells on Easter morning.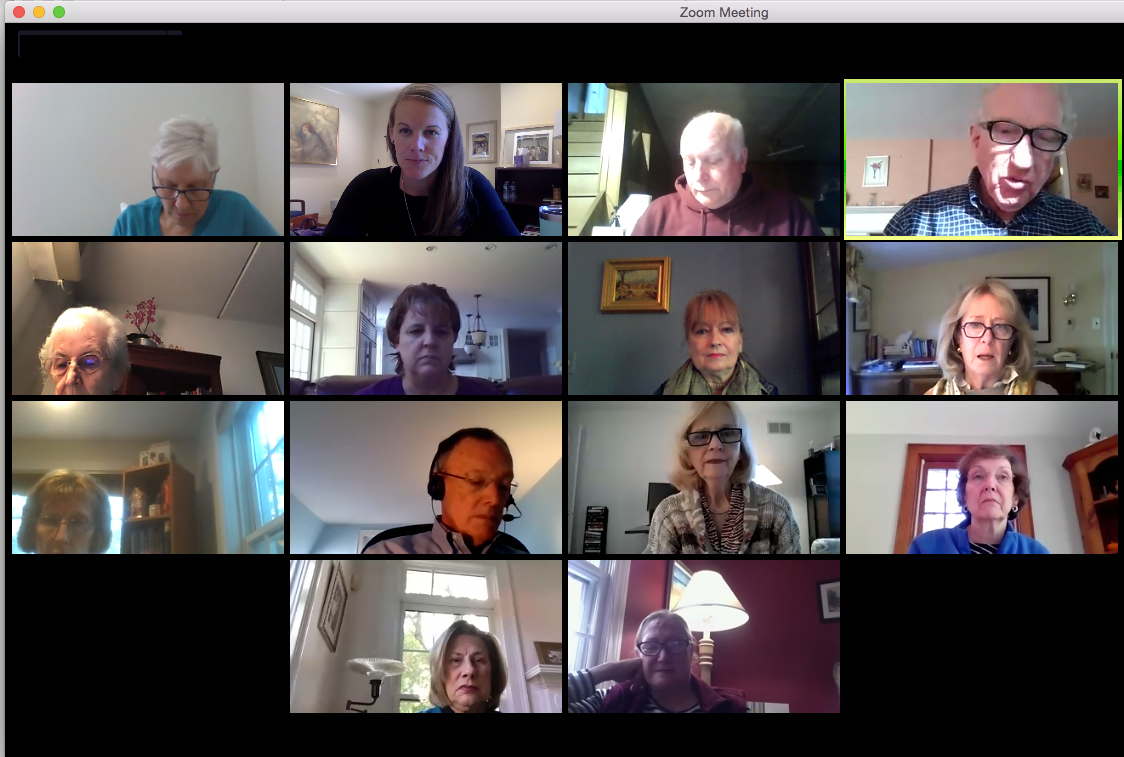 Religious Education and Youth Ministry Virtual Events
Our Religious Education and Youth Ministry programs launched new initiatives to provide virtual opportunities for faith sharing, fellowship, and service for our young students and families and for our high school students.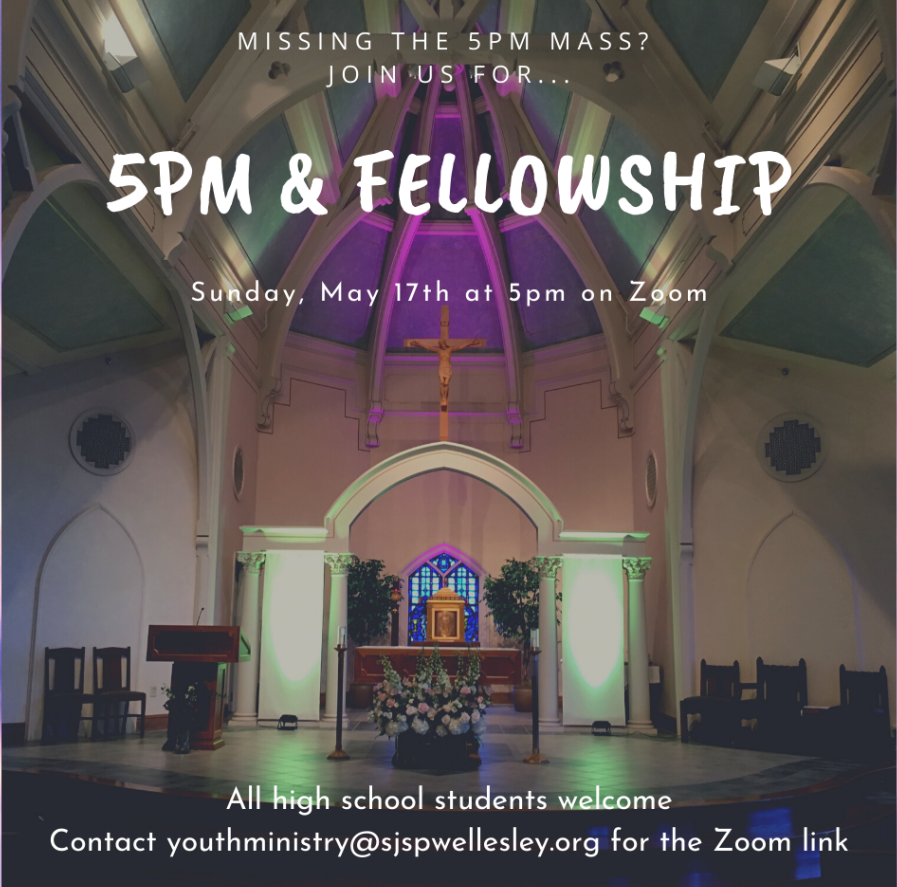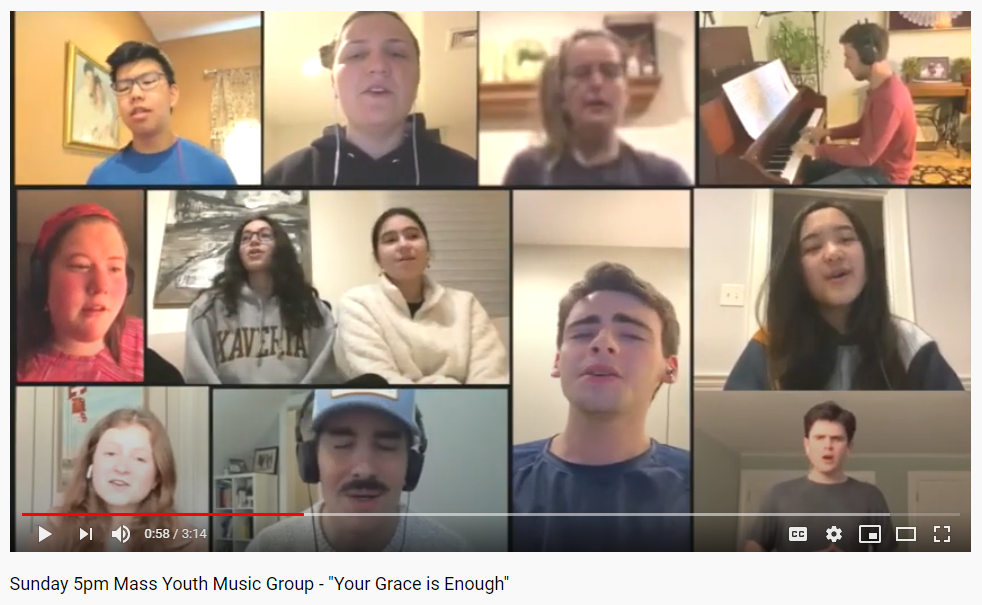 Outdoor Public Masses
When restrictions on gatherings began to lift, we resumed public Masses in the safest way possible by celebrating outside on the lawn of the church – our own "Tanglewood East."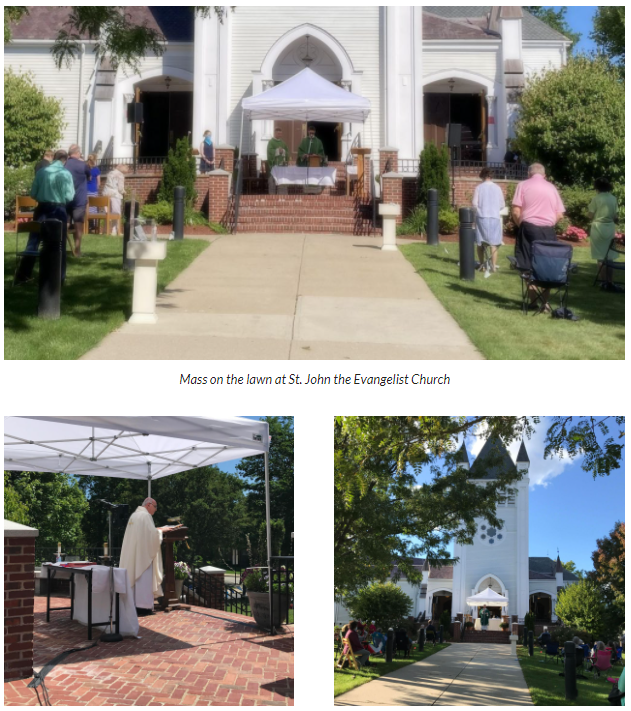 Celebrating the Sacraments
We have celebrated Baptisms, First Communions, Confirmations, weddings, and funerals. The celebration of these sacraments has brought tears to peoples' eyes as we realize how much we treasure our faith in this time of deprivation.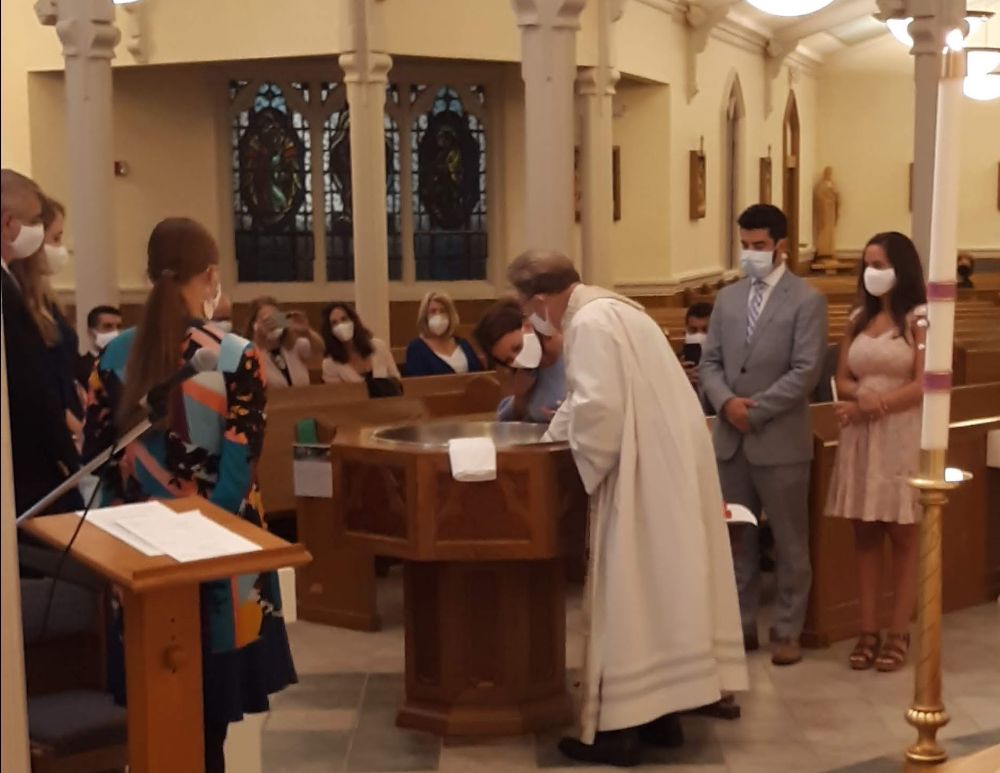 Saint John School
Through careful planning and preparation, Saint John School was able to open fully in person in September, and seeing and hearing the children on the playground has been a true joy! Monthly school liturgies have taken place on the lawn, and last year's second graders recently received their First Communions in a beautiful outdoor ceremony. Plans are well underway for a COVID-friendly Trees & Trimmings on Saturday, December 5.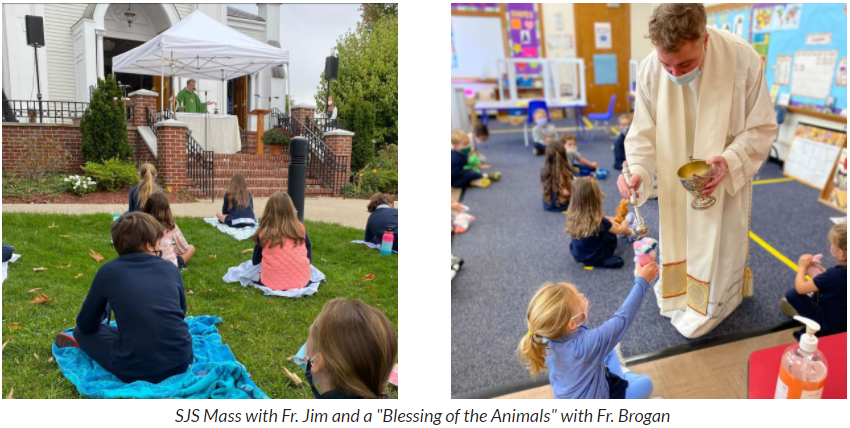 Service and Outreach
Our St. Vincent de Paul Society, thanks to your generous financial support, has been able to help numerous individuals and families in our community with emergency assistance throughout this crisis. As a parish, we've continued to support important organizations that need our help now more than ever, like NPH, St. Francis House, and the St. Katherine Drexel Food Pantry. And our amazing POWIR group has continued to serve the needs of the Rwandan refugee family we are sponsoring with all of the challenges that come from the demands of social distancing.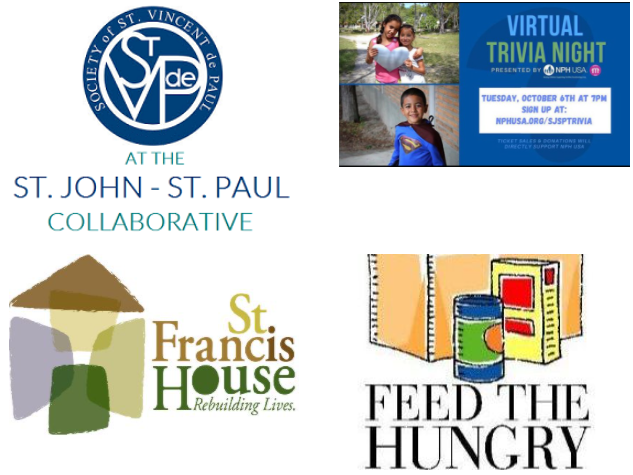 Our Parish Needs Your Help
St. John's needs your help as we continue to minister in these very challenging circumstances. We do not know what the future holds or how long it will be before we are able to resume in-person Masses at full capacity. Despite not making our budgeted goals for the Offertory and Annual Appeal collections in the last fiscal year, we ended the year with a surplus thanks to unexpected gifts from several generous parishioners. However, we are currently behind where we were last year for both collections.
We really need your help! Since most of the usual weekly offertory collections are not being received, we must rely on donations sent into the office and given online. Please consider online giving as a means of assuring a consistent source of income to fund our many ministries. In these challenging times, St. John the Evangelist Parish continues to be there for you. Your generous financial support will assure our ability to continue to do so in the year ahead.
Ways to Give to St. John the Evangelist Parish
CASH or CHECK: The mailing you receive includes both a Parish Annual Appeal pledge card and a return envelope. Your pledge/donation may be returned by mail, dropped through the slot at the Parish Office, or placed in a collection box at Mass (please be sure to note "St. John Annual Appeal" on your check.)
ST. JOHN ONLINE GIVING: Donations can also be made through WeShare, our online giving program. You can make a secure, One-Time Donation to the Annual Appeal without setting up an account. Or, if you prefer, you can set up a Recurring Donation for St. John Parish. Either way, just click the link below to get started:
ONLINE BILL PAY WITH YOUR BANK – Please contact your bank directly to set up automatic bill pay to St. John the Evangelist Parish. The parish is not charged a fee for this transaction.
Questions? Please contact Jackie Welham, Director of Finance and Operations at jackie.welham@sjspwellesley.org.