ST. JOHN—ST. PAUL COLLABORATIVE CONTEMPORARY CATHOLIC ISSUES SERIES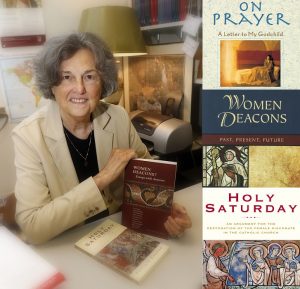 Please join us on Monday, September 23 at 7pm at St. John the Evangelist Church for an evening with Dr. Phyllis Zagano.
Phyllis Zagano is an internationally acclaimed Catholic scholar and lecturer on contemporary spirituality and women's issues in the Church. Her award-winning books include Holy Saturday: An Argument for the Restoration of the Female Diaconate in the Catholic Church (First Place, 2001 Catholic Press Association and 2002 College Theology Society), Women & Catholicism: Gender, Communion, and Authority (Second Place, 2012 Catholic Press Association) and Women Deacons? Essays with Answers (First Place, 2017 Catholic Press Association).
Her writing is widely translated — her best-selling On Prayer: A Letter for My Godchild is in Indonesian, Spanish and Italian as well as English — and she edited the Liturgical Press' "Spirituality in History" series. She is a member of the Papal Commission for the study of the diaconate of women. Winner of two Fulbright awards, her biographical listings include Marquis Who's Who. Her professional papers are held by the Women in Leadership Archives, Loyola University, Chicago. She holds a research appointment at Hofstra University, Hempstead, New York.
"What About Women Deacons?" with Dr. Phyllis Zagano – September 23 at 7pm at St. John