Interested in learning more about the global Synodal Journey?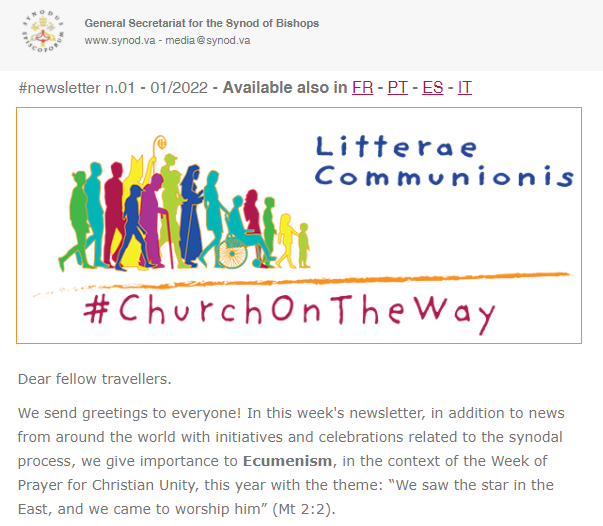 The General Secretariat for the Synod of Bishops offers a periodic newsletter with news from around the world with initiatives and celebrations related to the synodal process. The most recent newsletter gives importance to Ecumenism, in the context of the Week of Prayer for Christian Unity, this year with the theme:
"We saw the star in the East, and we came to worship him" (Mt 2:2).
One of the recent events highlighted in the newsletter was an ecumenical celebration held in Portugal:
Northern Portugal hosted an ecumenical celebration
On the evening of January 18, in the Basilica of the Congregates of Braga, in the north of Portugal, several dozens of Christians participated in an ecumenical celebration with the theme "Following together the star that is Jesus Christ". Archbishop Jorge Ortiga, Apostolic Administrator of the Archdiocese of Braga, said: "We are here today to become aware that the world needs unity and communion, which begins by following that star. Only then will we be able to do something so that others may also follow us". Jorge Pina Cabral, Bishop of the Lusitanian Church, said, he hopes that new paths will open up in the synodal journey, in the ecumenical movement and in the reality of Portugal, "so that the Epiphany of Jesus Christ will continue to happen in this time". D. Sifredo Teixeira, bishop of the Methodist Church, said that "the churches need to cooperate to relieve the afflicted and burdened, to build a more just and honest society".
You can find the most recent newsletter as well as past newsletters – and sign up to receive the newsletters in your inbox – by clicking this link: Email Archive
The Synodal Journey Newsletter – "#ChurchOnTheWay"