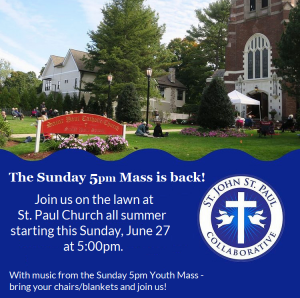 Bring your lawn chairs/blankets and join us for our Sunday 5pm Outdoor Mass at St. Paul Church beginning this Sunday, June 27 and continuing through Labor Day weekend. The Sunday 5:00pm Mass will remain outdoors at St. Paul all summer, as the space there lends itself better to larger crowds. You can access the digital worship aid for the Mass on your phone using this link: Sunday 5pm Digital Worship Aid
We are excited to be able to bring back some of the music from the Sunday 5pm Youth Mass at these outdoor Masses, and to introduce you to our new Youth Music Coordinator, Christian Wilson.
Christian is a familiar face! He's been an integral part of the Sunday 5pm Youth Mass for years as a talented pianist. He's also served in the Youth Ministry Team. He is a graduate of Boston College where he was involved in their vibrant Liturgy Arts Group, enlivening and enriching the worship experience on campus.
Outdoor Mass is Back! Sundays at 5:00pm at St. Paul Church