My dear friends in Christ,
I am sad to let you know that our beloved Fr. John Connelly died yesterday afternoon. I was with him for several hours, along with Kelly Meraw, our Director of Pastoral Care, and both Kelly and Fr. Hehir were with him when God took him home.
Fr. Connelly lived an amazing 98 years. I know that we have all loved having him with us for the last eight years. We were all enriched by his intelligence, wealth of knowledge and quick wit. He was kind, caring and compassionate and, of course, a man of deep faith. This true disciple of Jesus has touched many lives, including ours, over the last 98 years. We now have a new advocate in heaven, where, I feel certain, Fr. Connelly is basking in the love of the God he has served so faithfully.
Requiescat in pace.
Yours in Christ,
Fr. Jim
---
Obituary and Services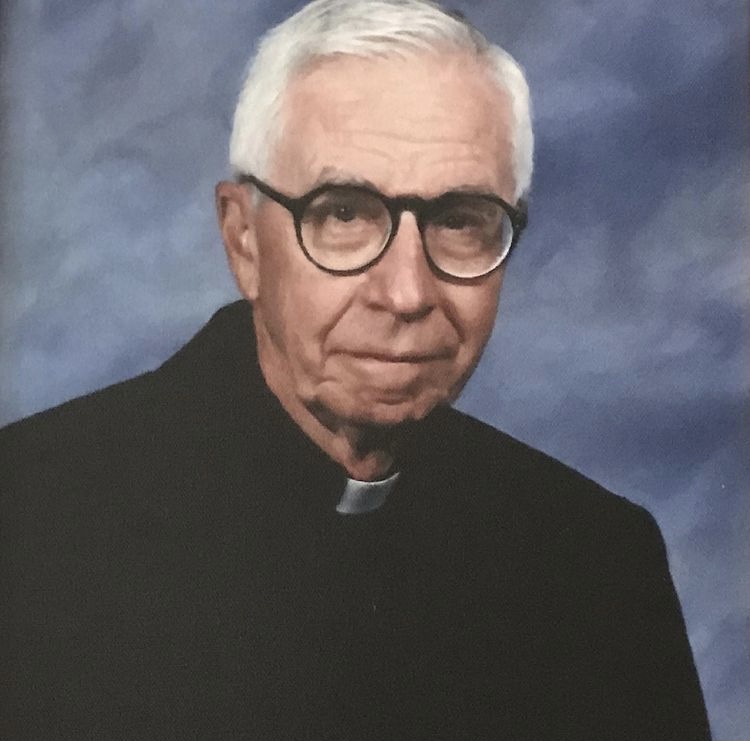 The Reverend John J. Connelly passed into the hands of God after he had served for seventy-one years as a priest. He was 98 at this time of his death on June 28th, 2021.
Son of the late John J. and Helen (Murphy) Connelly and brother of the late Mary Margaret Connelly and Helen Connelly, Fr. Connelly, a Boston native, attended Boston Latin School and Boston College before entering the U.S. Army in 1943, serving until 1945. He was ordained from St. John's Seminary by Cardinal Richard Cushing in 1950. He then earned a Doctorate in Theology from The Gregorian University in Rome. He served on the St. John's Seminary faculty for 26 years, followed by 30 years as Pastor of Sacred Heart Parish in Newton Center. Since 2013 he had been serving as a Priest in Residence at St. John the Evangelist Parish in Wellesley.
Father Connelly will lie in state at St. John the Evangelist Church on Friday, July 2nd from 4:00pm – 7:00pm.
His Mass of Christian Burial will be celebrated at Sacred Heart Church in Newton on Saturday, July 3rd at 11:00AM, with a visiting hour beginning at 10:00 AM. Interment will follow in Holyhood Cemetery, Brookline.
Donations in memory of Fr. Connelly may be made to the Elizabeth Seton Residence 125 Oakland St., Wellesley, MA 02481