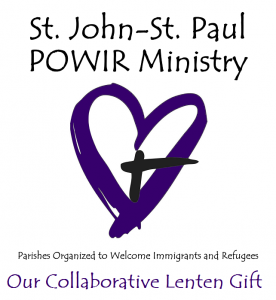 Last year, in 2020, our plan was to use our Lenten Gift to establish a St. John-St. Paul POWIR Ministry Fund to support our ongoing immigrant and refugee resettlement work in partnership with Catholic Charities Boston. POWIR (Parishes Organized to Welcome Immigrants and Refugees) programs have helped thousands of refugee clients find places to live, make friends, learn English, find work, receive pro bono legal counsel and medical services, and achieve social integration.
Unfortunately, the campaign had to be put on hold due to the cessation of Masses and all of the uncertainty surrounding the Covid19 pandemic, but a number of generous parishioners made their gifts before the shutdown, for which we are very grateful. Their gifts enabled us to respond immediately when we received word in mid-March that a family of seven would be arriving in just a few days from a refugee camp in Rawanda! The Collaborative Service Commission recently voted to build upon the example of these generous parishioners by giving everyone the opportunity to support the POWIR Ministry Fund by rededicating this year's Gift to that same significant cause.
In the parable of the Good Samaritan, Jesus reminds us not only that we must love our neighbors – without boundaries – but that our love must be manifest in action. This year, our Collaborative Lenten Gift will help us manifest our love into action by supporting the St. John-St. Paul POWIR Ministry Fund.
Throughout Lent, in the bulletin, via email, and on the website, we will share the POWIR story with you as we prepare for our collaborative-wide Special Collection. While the collection will be taken up in both churches on the weekend of March 20-21, we are expanding the opportunity to give to include the whole Lenten season. You may do so anytime by an online donation or by sending a check to your parish office. Please mention in the memo section that the check is for the 2021 Lenten Gift. Thank you very much.
Our Lenten Gift Story Week 1: The POWIR Ministry Fund