Letter from the St. John "Christmas Wish" Team
Dear Christmas Wish Sponsors and Donors,
2020 has certainly been a year to remember. The families that we support through our Christmas Wish outreach program needed our help more than ever this year. Many of the children in our program would not see a gift under the tree were it not for your wonderful generosity.
In the words of one of our parish coordinators, "the generous donation of food cards is the most essential gift we can share with our families! It is life sustaining!"
Thanks to the amazing response to our Christmas Wish 2020 appeal, we were able to support over 300 children and their families in Wellesley, Roxbury, Brockton and Lowell. We were also able to give Julie's Family Learning Centre a substantial number of food cards. Your generosity enabled us to significantly increase the number of food and clothing gift cards for each family during these challenging times.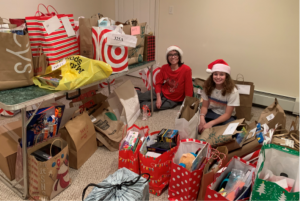 This program is only possible because of the incredible generosity of our parishioners who donate gifts, money and time to us each year. It takes a village to make this program work.  We are beyond grateful for your continued support during these truly challenging times that we live in.
We wish your families a happy and healthy Christmas Season.
With deepest gratitude,
The Christmas Wish Team.