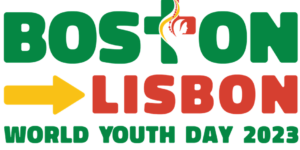 Our journey begins with an overnight flight on Friday, July 28 from Boston, arriving in Portugal early Saturday morning.
We then travel by bus to Santarem, site of a Eucharistic Miracle, where we will spend most of the day on Saturday, before heading on to Fatima where we will spend Saturday and Sunday nights, celebrating Mass with Cardinal Sean on Sunday morning.
On Monday, July 31 we head to Lisbon – the graphic below shows a basic outline of the week's events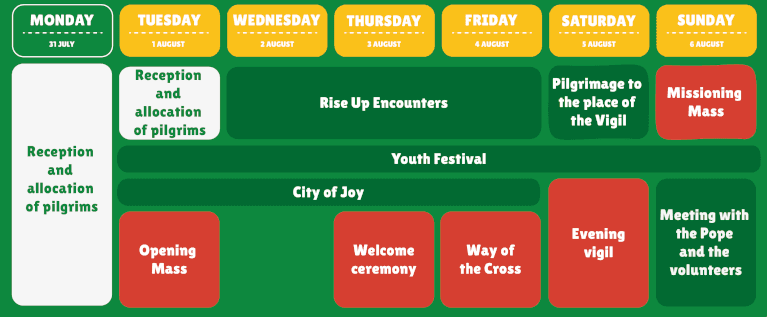 On Monday, August 7, we depart Lisbon, arriving back in Boston in the late afternoon.
Chaperones
Luke DelVecchio: luke.delvecchio@sjspwellesley.org
Youth Minister for the St. John-St. Paul Collaborative
Jimmy Hastings: jimmy.hastings@sjspwellesley.org
Youth Minister for the St. John-St. Paul Collaborative
Kelly Meraw: kelly.meraw@sjspwellesley.org
Director of Pastoral Care for the St. John-St. Paul Collaborative
Director of Music for St. John the Evangelist Parish
Tricia Bombara: tricia.bombara@sjspwellesley.org
Director of IT/Communications for the St. John-St. Paul Collaborative
Required Forms
RCAB Liability Waiver & Medical Authorization Form – Parental Form For Students Under 18
RCAB Liability Waiver & Medical Authorization Form – Form Students 18 and Older and Other Adults
RCAB Medical Form for WYD Lisbon 2023 – Form for Youth and Young Adults
RCAB Code of Conduct – Adult Volunteers