About Our Collaborative
In June of 2015,  St. John the Evangelist Parish and St. Paul Parish, two vibrant Catholic communities of faith, were joined in the St. John – St. Paul Catholic Collaborative through the Disciples in Mission pastoral plan for the Archdiocese of Boston.  We continue to grow together in faith and in service to those in need, both within and beyond our parishes.
Click the video below to learn more about our Collaborative.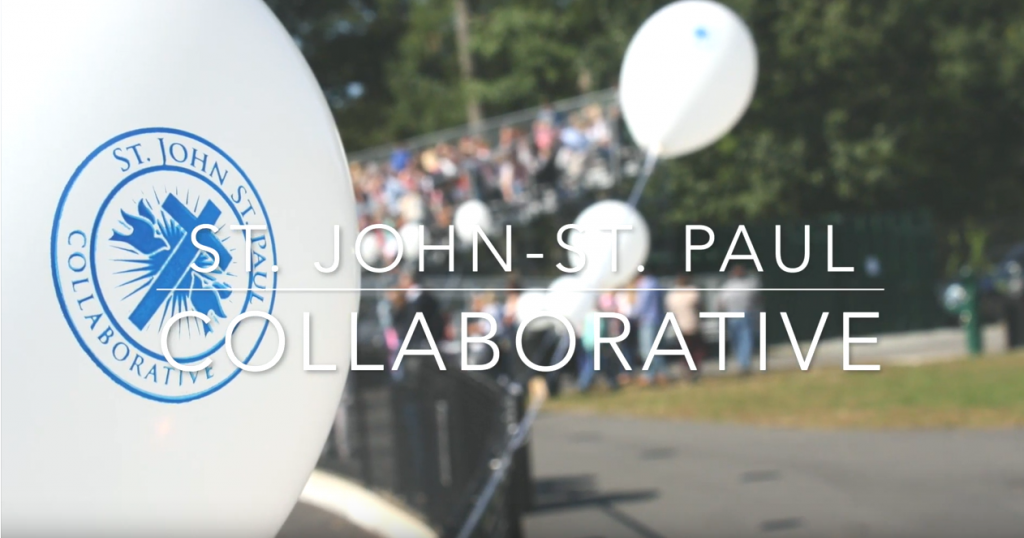 "Growing Together in Faith"
For more detailed contact information, please visit our General Contact Information, Locations and Directions, Office Hours and Collaborative Staff pages.
WHAT IS A COLLABORATIVE?
A collaborative is a grouping of one, two, or three parishes that work together for the goal of evangelization. A collaborative has one pastor, one set of assigned priests and deacons, and one Pastoral Team (including Pastoral Associates, Religious Education and Faith Formation leaders, Finance and Operations specialists, and administrative and facilities personnel.)  All of these work together for all of the parishes of the collaborative.
The collaborative has one Pastoral Council, and one Local Pastoral Plan for evangelization.  The collaborative does not share money or bank accounts or other financial assets or obligations. Because the patrimony of each parish continues to belong to that parish, as well as the obligations of each Parish continuing to belong to that Parish, each Parish has its own Finance Council.
COLLABORATIVE PASTORAL COUNCIL (CPC)
The CPC advises the pastor in his role in forming and implementing the mission of the parishes in the collaborative. The Collaborative Pastoral Council (CPC) is comprised of parishioners from each parish.  If you would like to contact a member of the St. John-St. Paul Collaborative Pastoral Council, please e-mail CPC@sjspwellesley.org or call St. John Parish at (781) 235-0045 or St. Paul Parish at (781) 235-1060 and a member will contact you.
Members:
Carolyn Anderson (SJ)
Jon Bonsall (SJ)
Leah Cinelli (SP)
Rose Mary Donahue (SJ)
Jerry Kehoe (SJ)
Eugenia Kennedy (SP)
Mary Mullen (SJ)
Donna Norwood (SP)
Edward Ryan (SP)
Doug Smith (SP)
Ex Officio Members:
Rev. James Laughlin, Pastor
Rev. Robert J. Blaney, Parochial Vicar
Kelly Meraw, Director of Collaborative Pastoral Care
Anne Mears, Coordinator of Collaborative Pastoral Care
CPC Email: CPC@sjspwellesley.org